Sarah, from Sassyfrazz, is having baby #4 - awesome! And Pamela Kramer, from Happy Panda (love them!), is hosting a cyber-baby shower for her. I love cyber-parties. Ok, ok. I love ALL parties!!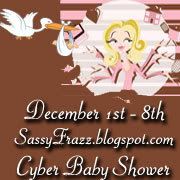 I'll be playing a few of the shower games, and you can too (click on the cyber baby shower button above)! In addition to it being fun, you can also win prizes. Everyone loves prizes.
Game #1: Because we're due in January, I can only offer this recent picture of my husband and our bump... not sure that it counts, but I thought I would share anyway. It's my favorite and we were having such fun playing with the bump and bonding! I may be biased (ahem), but I think it's very sweet. xoxo
Photo taken by Amy Scherer
Game #2: Guess the birth weight... I'm going to say
9 pounds 2 ounces
.
And because I have no play-doh (I'm sure that's going to change soon!), I'm going to skip game #3. But I cant wait to see the other entries!
My top prizes would be, in no particular order: See Kai Run, Paperlicious, Happy Panda, Cute Slings and Baby Banz.
Congratulations Sarah!